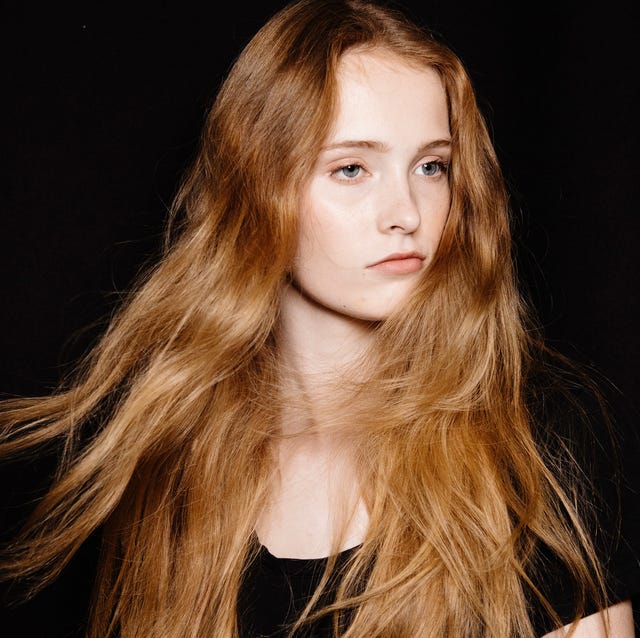 Rosdiana CiaravoloGetty Images
Finding the right blow dryer is like finding the right partner. There are so many to choose from that it makes the whole process overwhelming. Do you want slow and steady, or top-of-the-line? Is a highly powered motor your aphrodisiac? Is it all about heat, or would something cooler work for your lifestyle? And even when you know all their qualifications, there's still that extra burden of understanding your own needs enough to make the right choice. Maybe you need something that works with you, not against you. Maybe you want to try something brand new. Are we still talking about blow dryers?
The point is, I want you to have all the information before you settle down. Blow dryers aren't like SOs. You only really need one. And now that salon visits are harder to come by in quarantine, you'll probably be reaching for your new hot tool a lot more than in recent years. So there's no better time to invest in a great hair dryer. As you work on perfecting the at-home blowout, the right tools are crucial for achieving that salon-level look. A hair dryer can address all hair types and needs—from enhancing natural curls and eliminating frizz, to being environmentally conscious and travel-friendly. Ahead, our favorite picks for shine, volume, and everything in between.
Advertisement – Continue Reading Below
Best Easy Styling
T3 AIREBRUSH DUO
Whether you have straight hair that needs some bounce, or you're a curly girl curious about getting a sleek blowout without damaging your pattern, this styling brush duo makes it easy. The round-brush attachment gives insane volume, while the paddle attachment makes it easy to smooth locks for a salon-level blowout you can do at home. 
Best 3-in-1
MAX PRIME Wet to Dry 1.25" Rotating Styling Iron
The amount of damage caused by needing a blowdryer, flat iron, and curling wand to achieve your preferred 'do is quite extensive. So why not combine all those steps into one easy tool? Unlike traditional flat irons, you can use this on wet hair to achieve the sleek or beachy look you want without needing multiple tools.
Best De-Frizzer
Smart Styling Infrared Hair Dryer
If giving yourself a blowout at home mostly just results in absurd amounts of frizz, try a dryer with infrared technology built in. This one from Moroccanoil makes styling fast, and never uses excessive amounts of heat that could end up frying your strands.
Best for Instant Beauty Cred
Airwrap™ Styler
Every beauty junkie knows that the Dyson Airwrap Styler is the go-to tool to achieve every hairstyle you could ever want. Dyson administered 7,000 acoustic tests targeting noise, weight, and speed before launching the game-changing dryer with celebrity hair guru Jen Atkin. Plus, with their incredible technology, it's one of the safest tools for damaged hair on the market.
Best For Thick Hair
Ionic Anti-Static Dryer
This blow dryer comes with a pick attachment that's ideal for rough drying and taming anyone who's lucky enough to have a thick head of hair. It also uses icon technology to leave hair looking shiny, hydrated, and never frizzy or staticky.
Best For Bangs
Thermalite Dryer Brush
Now that you probably have curtain bangs, it's time to properly style them. The easiest way to make bangs frizzy and unkept is to use a blow dryer without enough precision. This blowdryer brush is perfectly sized to specifically target shorter lengths for everyday styling.
Best For Damaged Hair
Blast: Infrared Hair Dryer
Not only does this blow dryer style quickly and easily, but it actually works to help strengthen the hair by infusing moisture and protecting ions into it while styling. Ever heard of a guilt-free hot tool before?
Best for Eliminating Frizz
Soleil Hair Dryer Blush
Flyaways are no match for this high power dryer with a negative-ion generator that reduces frizz and promotes shine. Bonus points for its quiet motor and millennial pink finish. 
Best for Smooth Hair
Helios Hair Dryer
Leave it to GHD to develop the most sleek yet functional hair dryer. Smooth hair is made easy, thanks to its lightweight 1875 watt brushless motor with low sound levels. 
Best for Compact Power
Mighty Mini Dryer
Get style and compact design without sacrificing quality and performance. This green, purple ,pink and yellow travel-sized model from Amika is small but mighty, with 1200 watts and dual voltage. 
Best for Lightweight Styling
IQ Perfetto Hair Dryer
This futuristic-looking dryer is the lightest in its class. Engineered in Italy, its motor has three speed levels at 110,000 RPM and uses Oxy Active technology to protect hair cuticles. 
Best According to Amazon
Professional Ionic Salon Hair Dryer
With more than 12,000 ratings on Amazon, this top-rated pick is beloved for its "long cord and great price" and for being "lighter than many on the market" according to reviews. 
Best for Volume
One-Step Hair Dryer And Volumizer Hot Air Brush
Pump up the volume with a hair dryer brush. This model features an oval design and nylon bristles, perfect for achieving a bouncy at-home blowout. 
Best for Travel
Space Saving Compact Pro Dryer
Pick up this small but mighty hair dryer on your next Target run. Celebrity hairstylist Kristen Ess's line of tools are not only effective, but affordable. This model was designed for travel, featuring a folding handle for easy storage and dual voltage.  
Best For Quick Drying
Air Professional Performance Hair Dryer
If you're constantly rushing out the door, cut dry time in half with this strong 1600-watt AC motor. Ionic technology works to seal in moisture, while reducing frizz and flyaways. 
Best for a Custom Blow Dry
Porcelain Ceramic Carrera2 Dryer
Porcelain ceramic helps with heat distribution to promote healthy hair. This model also has six different heat and speed settings for a custom blow dry. 
Best for the 'Gram
Healthy Heat Pro-Lite Hair Dryer
Behind this cute lavender hair dryer is a powerful 1600 watt engine with dual voltage, 2 speed and 3 heat settings, and a 108 inch power cord. 
Best for the Environment
Parlux Eco Friendly 3800 Dryer
Good for your hair and the environment. This eco-friendly hair dryer uses recycled packaging and is made from recycled materials, while the motor reduces drying time and electricity usage. 
Best for Curly Hair
DevaDryer & DevaFuser
Get the curls of your dreams with this dryer-and-diffuser combo. The patented DevaFuser provides 360-degree airflow to further enhance your natural curls, plus you'll get defined waves and curls without frizz thanks to this dynamic product.
Best on a Budget
Vivid & Vogue 1875W Negative Ions Hair Dryer
Need something that will get rid of frizz, soften your hair, and won't break the budget? This hair dryer checks all your boxes with its negative ionic function, meaning your hair won't attract static, and nozzle and diffuser attachment for styling — all that for less than $40.
Best for All Hair Types
Pro Dryer 2000
Harry Josh Pro Tools are a favorite amongst the professionals: The Pro Dryer 2000 is equipped with multiple heat and speed settings to best fit your needs.
Best for Fragrance Lovers
Stylset Professional Dryer
Hai Beauty Concepts
Price: $110
This dryer from Hai Beauty Concepts comes with a couple of unique features, including blue UV light for conditioning the scalp and stimulating healthier hair, and a jasmine scent that gets activated when turned on (really!).
Best for Silky Hair
GrapheneMX Professional Dryer
This new, fast-working dryer from Bio Ionic uses a proprietary blend of graphene and other minerals to help tone down frizz and condition hair as you're drying. Even rough, color-treated hair will feel incredibly silky to the touch and shine for days. 
Best Handleless Hair Dryer
Neuro Grip Hair Dryer
Although it may look strange, a handleless hair dryer allows for better control and ease when drying and styling hair. This Paul Mitchell model is lightweight, but has a powerful motor for both heat and cooling. 
Best for Replacing Your Flatiron
Reverse Air Dryer
As cumbersome and intimidating as this contraption might look, this "reverse air" dryer presents a genius solution for saving you from damaging heat-styling. You place your hair inside the tube, and water gets pulled away—the befores and afters, showing even very curly hair slicked straight, are extremely impressive.
Best for Shiny Hair
Featherweight Luxe 2I Dryer
The dyer is equipped with an ion generator that will reduce static, fight frizz, and boost your hair's overall shine. The barrel brush included also helps to build shine and create a full blowout.
Best for Damaged Hair
Power Diva Pro Style Dryer
Unlike traditional hair dryers that heat up room temperature air, ionic tools like this one generate ionic particles to dissolve the water in your hair, thus trapping in moisture.
Best for Softer Hair
Italian Gold Blow Dryer
Croc
The Italian-designed hair dryer aims to reduce frizz while promoting softness. The iconic generator's negative ions create a conditioning effect on your strand to seal the hair cuticle. Bonus: the hard shell casing protects the internal system from drops, falls, and all the major mishaps.
Best for Fine Hair
3200 Dryer
This powerful dryer boasts four temperatures, two speeds, and an anti-overheating device, making it ideal for managing heat for fine hair. High temps are your biggest enemy when drying fine hair, so keep this dryer at the lowest option, then switch it to cool to set your style.
Best for Salon Results at Home
Buttercup Blow Dryer
Your favorite blowout bar created their own tool to get the same results without having to schlep over to a salon. It includes a narrow nozzle attachment, perfect for styling your bangs.
Best for Powerful Heat
Infiniti Pro
The blow dryer packs a lot of punch with a powerful AC motor that delivers fast airflow for a quicker drying time and less heat exposure for your hair.
This content is created and maintained by a third party, and imported onto this page to help users provide their email addresses. You may be able to find more information about this and similar content at piano.io
Advertisement – Continue Reading Below