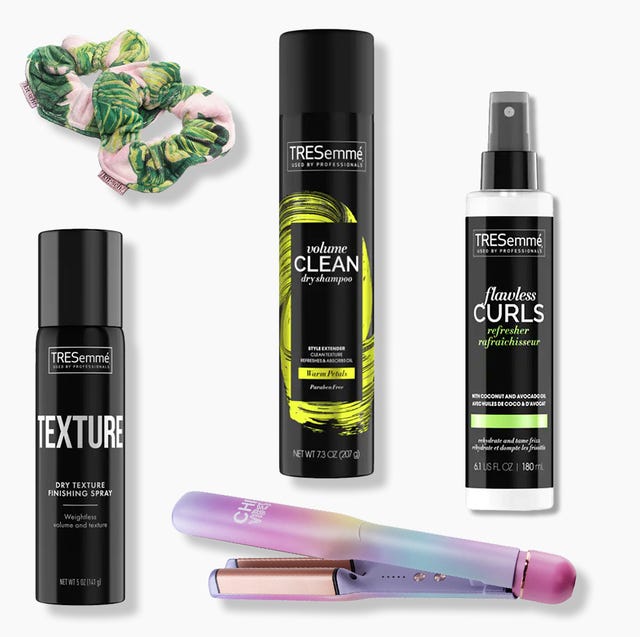 "Better late than never" is our exact sentiment about all the impending concerts on the horizon. No offense meant to our most-played playlists, but few events are as invigorating as a live show. And now venues are doing everything they can to make the experiences as fun and safe as possible. In addition to the thrill of hearing your favorite artists in person, concerts are an opportunity to reunite with friends, feed off the energy of an excited crowd, and the ideal moment to branch out from your go-to uniform of sweatpants and a messy bun. After all, getting ready to go out is half the fun.
Considering that it's been far too long since most of us have had an opportunity to go out and get loose, it's easy to forget that certain vibes and venues have different beauty needs, especially when it comes to hairstyling. For example, if you're traveling to a show, you and your hair may be faced with a dramatic change in humidity levels. Even if you're just opting to attend local performances, you'll need a style that can last through the final encore. With that in mind, we're sharing our top hair essentials for your concert calendar.
Advertisement – Continue Reading Below
The Intimate Acoustic Set
TRESemmé Dry Texture Finishing Spray
When you're getting up close and personal with one of your favorite artists, cool-girl bedhead is always a solid (and wonderfully low-effort) styling choice. Spray on some TRESemmé Dry Texture Finishing Mist Spray For Flat Hair, massage it in to amp up the texture, then repeat as desired to achieve messy-sexy perfection.
The 90s Boy Band Reunion
CHI Vibes Wave On Multi-Functional Waver
This cute hot tool delivers 90s charm both in appearance and function; the rose gold ceramic plates make it easy to recreate the funky crimped styles of yesteryear. (It also doubles as a curling iron, making it just as helpful for everyday styling.) If you're ready to double down on the nostalgia as you sing your heart out to the jams of your childhood heartthrobs, may we suggest pairing your look with a henna necklace and popcorn sweater?
The All-Day, All-Night EDM Rager
TRESemmé Flawless Curls Refresher Spray
Spending back-to-back sets dancing would make anyone sweaty, but if you have curly hair, you know that perspiration tends to frizz out textured strands. Make sure your curls, kinks, and coils stay nourished no matter what by misting on this conditioner spray from TRESemmé. It contains coconut and avocado oils to deliver serious, yet lightweight moisture.
The Waterfront Jazz Festival
Deborah Pagani Large DP Pin
Jazz music is a divine intersection of elegance and effortlessness, which is exactly how we'd describe a French twist. After securing yours with this chic hair pin from Deborah Pagani, spritz on some of TRESemmé's TRES Two Extra Hold hairspray to stave off any shoreline humidity. Its petite size makes it ideal for on-the-go use.
The Vegas DJ Day Party
Kitsch Ultra Soft Microfiber Hair Drying Scrunchies
At shows like these, you can't expect any significant hairstyle to hold up, especially if you decide to enjoy the DJ's set from the deep end. After unsnarling any knots with the handy Tangle Teezer, pop on this microfiber scrunchie. It'll soak up excess moisture from your refreshing dip in the pool while facilitating some gorgeous, air-dried waves—perfect for post-party shopping on the strip.
The Desert Festival
TRESemmé Volumizing Dry Shampoo
When you're enjoying art, music, and activations in the desert, it can be easy to forget how swelteringly hot it actually is out there. That is, until you check your mirror for a makeup touch-up and catch a glimpse of your flat and greasy roots. TRESemmé dry shampoo will keep your hair looking (and smelling!) fresher than you feel while keeping your voluminous blowout intact. 
The Sporadic Street Jam
Riki Loves Riki Super Fine 7x
To ensure you always have an eye on your style, stash Riki Loves Riki's purse mirror in your bag; it boasts tiny, ultra-bright LED lights and a carrying case that can also hold lipstick, keys, and mints in a pinch.
This content is created and maintained by a third party, and imported onto this page to help users provide their email addresses. You may be able to find more information about this and similar content at piano.io
Advertisement – Continue Reading Below