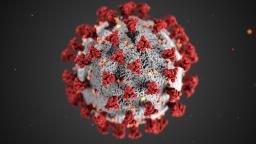 Speaking to a much smaller crowd than usual due to the ongoing coronavirus crisis, Biden on Tuesday urged heads of state to take swift action to rein in a pandemic that has killed millions and continues to resurge.
"We need a collective act of science and political will," he said to a hybrid audience of virtual and in-person UN delegations. "We need to act now to get shots in arms as fast as possible, and expand access to oxygen, tests, treatments, to save lives around the world."
But the ongoing debate over how best to address the wide gap in vaccine access is boiling over at the UN, with national leaders condemning vaccine abundance in rich nations like the US and the drip-feed of shots afforded to the rest of the world.
President Rodrigo Duterte of the Philippines on Tuesday accused rich countries of hoarding Covid vaccines while the poor "wait for trickles" and developing countries consider half-doses to cover more of their populations. The Philippines has one of the lowest Covid vaccination rates in Asia, with just 17% fully vaccinated.
The divide, Duterte said in a prerecorded speech, "is shocking beyond belief — it must be condemned for what it is, a selfish act that can neither be justified rationally nor morally."
Speaking to CNN on Sunday, UN Secretary-General Antonio Guterres highlighted Biden's Covid-19 summit on the UNGA sidelines and an International Monetary Fund proposal to create a $50 billion vaccine program for poor countries, saying these were "positive signs" that rich nations were starting to work together to tackle vaccine inequity.
"But let's be clear: All this is too little, too late," he added.
Out of six billion doses administered worldwide, only 2% have been in low-income countries. Discussions around how many traveling diplomats might still be unvaccinated illustrated just "how dramatic" the disparity in distribution remains, Guterres told Reuters. In a new take on vaccine diplomacy, a free Covid-19 testing and vaccination van welcomed world leaders and delegates at the UN, with the aim of avoiding a super-spreader event.
A so-called "honor system" calling for foreign delegations to be vaccinated before entering the assembly hall was broken on the very first day of the General Assembly.
Unvaccinated Brazilian President Jair Bolsonaro kicked off the UN General Assembly Tuesday by doubling down on his defense of using "off-label" medications against Covid-19 — adding that he had been among those to recover after using an anti-malaria medicine that has been found ineffective in treating the disease.
"History and science will hold everyone accountable," said Bolsonaro, whose handling of the pandemic in Brazil been widely criticized. The South American country has the highest death toll in the world after the United States.
In a live social media broadcast before the UN General Assembly, Bolsonaro said he would only decide whether to get vaccinated "after everyone in Brazil gets the vaccine" — a dissonant voice as the General Assembly pushes this year to increase vaccination rates around the globe, cajoling wealthier nations to share more doses with poorer ones.
On Tuesday, Brazilian Minister of Health Marcelo Queiroga, part of Bolsonaro's delegation in New York City, tested positive for Covid-19. He previously said he had been vaccinated with the Chinese-made CoronaVac vaccine.
YOU ASKED. WE ANSWERED.
Q: Countries across the world are starting to consider booster shots. But who should have them, and why do we need them?
A: Vaccine advisers to the US Food and Drug Administration have declined to recommend the agency approve Covid-19 booster doses for everyone who got vaccinated six months ago or longer. However, they did recommend a more limited step: Emergency use authorization for people 65 and older, and for people at high risk of severe infection.
Explaining the decision, American health officials said in a joint statement that Covid-19 vaccines authorized in the US "continue to be remarkably effective in reducing risk of severe disease, hospitalization, and death, even against the widely circulating Delta variant." But they added that available data shows protection against Covid-19 begins to wane over time, especially for those at higher risk who were vaccinated during the earlier phases of the rollout.
"For that reason, we conclude that a booster shot will be needed to maximize vaccine-induced protection and prolong its durability," they said.
The officials also said that booster shots would likely be needed for people who received the Johnson & Johnson (J&J) vaccine and were expecting more data in the coming weeks. J&J said Tuesday that a two-dose version of its coronavirus vaccine provides 94% protection against symptomatic infection — making a two-dose regimen of J&J's Janssen vaccine comparable to a two-dose regimen of Moderna's or Pfizer's.
Send your questions here. Are you a health care worker fighting Covid-19? Message us on WhatsApp about the challenges you're facing: +1 347-322-0415.
READS OF THE WEEK
What US plans to ease travel restrictions means for you
The United States plans to ease travel restrictions on all fully vaccinated foreign visitors starting in November, the White House said Monday, relaxing a patchwork of bans that had begun to cause fury in Europe and replacing them with more uniform requirements for inbound international air passengers.
The new rules will require all foreign nationals arriving in the United States to show proof of vaccination, the White House Covid-19 response coordinator Jeff Zients said. The lifting of blanket restrictions on travel to the United States from certain countries will be welcome news to thousands of foreign nationals with families in the United States who have been kept apart for almost the entire pandemic.
Marnie Hunter looks at what the changes mean for travelers, who will be able to get into the US more easily and whose trip just got harder.
These countries are adopting a "living with Covid" model
After months of lockdown, parts of Southeast Asia are charting a path toward living with the virus — despite experts' warnings that it may be too early to do so. Covid-19 swept across the region this summer, fueled by the highly infectious Delta variant, with cases climbing steeply in July and peaking in most countries by August. Now, governments including Indonesia, Thailand and Vietnam are looking to revive their economies — particularly the vital tourism industry — by reopening borders and public spaces. But experts worry that low vaccination rates in much of the region, and the widespread use of lower-efficacy vaccines including China's Sinovac, could lead to a catastrophe, write Jessie Yeung and Ben Westcott.
Countries elsewhere have already adopted a "living with Covid" model. Some have enviable vaccination rates, while others have decided that the costs of continued economic and social restrictions outweigh the benefits. Laura Smith-Spark looks at the strategies of five nations easing restrictions.
A 4-year-old highlights the human cost of China's zero-Covid policy
The image of a small child covered from head to toe in a white hazmat suit, carrying a backpack half the size of his body and walking down a hospital corridor all by himself went viral on Chinese social media last week.
The clip serves as a stark reminder of the human cost of China's zero-Covid policy, which has helped the country quell multiple resurgences of the virus, Nectar Gan and Steve George write. The elimination playbook consists of placing entire neighborhoods under lockdown, testing millions of residents in a matter of days, and swiftly isolating infected people and their close contacts in designated facilities.
In the city of Putian, the epicenter of China's latest Delta variant outbreak, the strict measures have been applied to schoolchildren — among whom infections were first detected before spreading quickly. According to local officials, 57 of Putian's recently reported 129 cases are under the age of 12. To prevent further transmission, infected children as young as kindergarten age are separated from their parents and put in hospital isolation.
TOP TIP
Have an open conversation with your children about the vaccine.
On Monday morning, Pfizer announced that its Covid-19 vaccine for 5- to 11-year-old children is safe and resulted in a robust antibody response. It was the news many parents have been eagerly anticipating, but children may still be nervous about getting a shot.
CNN's Chief Medical Correspondent Dr. Sanjay Gupta fielded questions from elementary students in Atlanta about the vaccine. "Is it really going to help us be protected?" one fifth grade boy asked. Gupta explained that it would not only help to keep children safe, but also protect the safety of others — including their vulnerable or elderly family members. Watch the full clip for more tips on how to talk to your children about getting the vaccine.
And, for parents wondering when Covid-19 shots might be available for younger kids, CNN Medical Analyst Dr. Leana Wen has a few answers.
LISTEN TO OUR PODCAST
Covid-19 taught the world a tough lesson: If we aren't prepared for a viral threat, the consequences can be catastrophic. But what does it mean to be truly prepared? The question feels more urgent now that public health officials warn that many of us may experience another pandemic in our lifetimes. Dr. Sanjay Gupta turns to former FDA Commissioner Dr. Scott Gottlieb, who anticipated our current crisis, for specific recommendations on how to prevent the next one. Listen to that episode here.
CNN's Isabelle Jani-Friend contributed to this report.