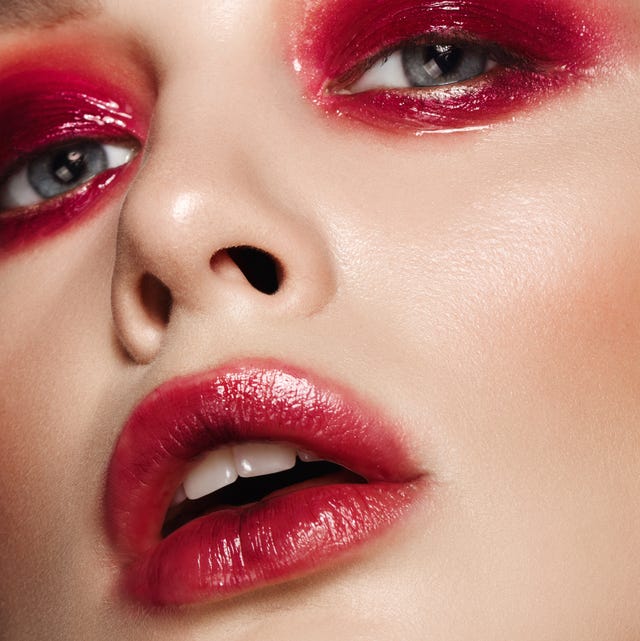 Vasilina PopovaGetty Images
In the age of 10,000 renaissances (See: mullets, shags, Twilight, and streaky highlights), here's one most of my pals in the beauty world weren't expecting: Clinique's lipstick in Black Honey. It's a phenomenal product on so many fronts: It's creamy, has a gorgeous sheen, works on every skin tone, and makes it look like you just ate a whole bag of cherries. But for you guys to make it sell out everywhere? That's a twist. And who do we have to thank for the viral sensation? None other than TikTok Lord of the Rings superfan who discovered that Liv Tyler wore the lipstick in the movies. Cue millions upon millions flying to beauty stores trying to get their hands on one.
No brag, but I used this particular shade back in the day when it was available pretty much everywhere, so the idea that now I'm fighting against 12 year-olds on TikTok to get my hands on one irks me. But while we're patiently awaiting a restock, let me just share some insight that comes with age: As good as the product is, there are dupes that will make you feel silly for putting your name down on a mile-long waiting list. Below, find the best Black Honey dupes that will make all your TikTok famous friends sad they didn't snag one when they had the chance.
Advertisement – Continue Reading Below
1
Ultralip
The favorite of megafans like Olivia Rodrigo, Glossier's Ultralip is shiny, hydrating, and berry-toned like we all want.
2
Rouge de Beauté Brillant Glow & Care Shine Lipstick
For a fancier twist, Gucci's lipsticks are some of the most moisturizing and gorgeous shades on the market today. The color Jody Wild Mauve is a perfect dupe for Clinique's version.
3
Chubby Stick Moisturizing Lip Colour Balm in Richer Raisin
Keep it in the family by trying one of Clinique's Chubby Sticks. This raisin toned lipstick is sheer but buildable for Black Honey levels of sweetness.
4
Cosmetics Hydrating Core Lip Shine
One of the most commonly listed dupes on the market, this lip shine by e.l.f. is a low-cost berry-toned lipstick that will leave your lips looking bitten.
5
Light On Lip
For an extra shine, this lipstick has light-reflecting particles that give it an extra oomph.
6
Super Lustrous Glass Shine Moisturizing Lipstick
Revlon makes some of the best lipsticks on the market, and this wine-colored shimmery lipstick is a stand-out among them. Layer it for a deeper color, or give it one-swipe for a beautiful sheen.
7
Balmy Tint Hydrating Lip Balm
For the clean beauty enthusiast, these hydrating balms by ILIA are not only planet-friendly, but they also give a natural flush to your lips that will make your friends envious.
8
Lip Shimmer in Fig
Burt's Bees Lip Shimmers are seriously underrated, and this product proves it. This color is an ultra-hydrating, lightly shimmery alternative to Clinique's classic.
9
It's Balm Lip Balm Crayon
This product packs a surprising amount of pigment for something called a balm. It has that hydrating, glossy finish we love but with a color that says, "I just drank a bottle of red wine."
10
Balm Stain
If you want that hydrating finish without having to reapply ten times a day, this stain by Revlon is your go-to. 
This content is created and maintained by a third party, and imported onto this page to help users provide their email addresses. You may be able to find more information about this and similar content at piano.io
Advertisement – Continue Reading Below