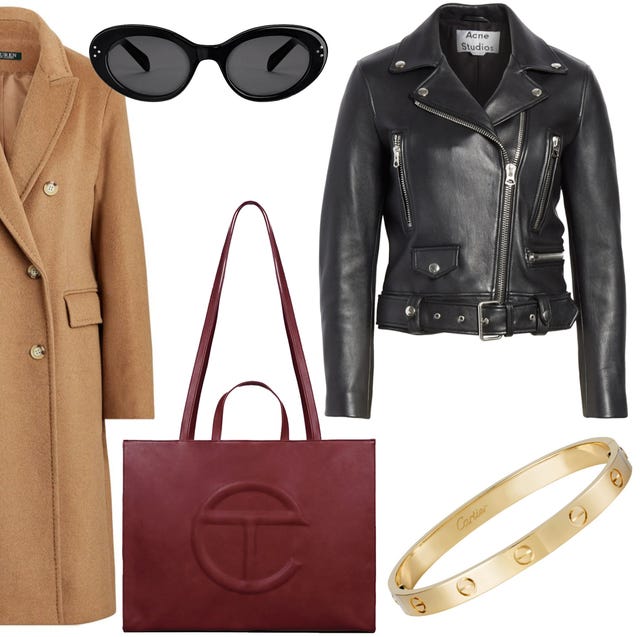 Courtesy
Dictating what one "should" or "should not" wear is not the kind of language we're using in 2021, so the idea of must-have fashion items in and of itself is a cautionary zone. Like people, style is fluid and subject to change over time. So what warrants a "closet staple"? There are certain pieces that have stood the test of time, creating safe spaces for us to reach for over and over again. Ahead, we compiled 30 basics that will help narrow down what matters to you, which also helps keep us accountable; after all, the most sustainable fashion choice you can make is to stick to what you own and wear it for decades.
Consider this my attempt at being as unbiased as a fashion editor can possibly be. Case in point: I've never met a denim jacket I actually liked, so while it's included in this roundup, I don't personally own one. If you don't vibe with it, don't force it into your closet! We also included suggestions that range from top-shelf designer picks to budget-friendly alternatives that are investments you'll own for life.
Advertisement – Continue Reading Below
1
A Basic Coat
Double Breasted Wool Blend Coat
A winter coat is essential no matter your aesthetic (unless you live in a warm weather climate). There's something so easy about the ever-flattering double-breasted coat—it's genderless and basic in the best way possible. Our tip for finding the best one? Look at the fabrication first and foremost. When winter rolls around, wool is king. 
Honorable mentions: Max Mara for those looking to spurge on the very, very best. For wallet-friendly outerwear, & Other Stories makes great silhouettes that toe the line between classic and modern. 
2
A Leather Jacket
Mock Core Leather Moto Jacket
Very few aren't into the moto leather jacket. It transcends trends and style preferences, fitting neatly into a hardcore punk look as easy as it does for someone who engages in Taylor Swift fan fiction. 
Honorable mentions: All Saints Balfern Jacket ($489) consistently has rave reviews. Stand Studio makes great vegan options. 
3
A Denim Jacket
The Modern Jean Jacket
Like I said, I'll be the first to admit that not all "wardrobe classics" are for everyone. Despite not owning a jean jacket, I'm keenly aware that it's the kind of item you should envision yourself throwing over anything, be it a spring dress or a Texas tux. This Everlane style is made with sustainable and eco-friendly practices in mind. 
Honorable mentions: Levi's is the OG. If you can't skip a designer dud, go for Balenciaga. You deserve it. 
4
A Clean Hoodie
Iced Mango Hoodie
If the pandemic taught us anything style-wise, having a nice hoodie is a new addition to the essentials list. This is not the one you wear while Netflix asks you if you're still watching. Think of it as an elevated sweatshirt that you wouldn't mind wearing to a restaurant. 
Honorable mentions: Champion if you want that retro look (i.e. something that might mistake you for a Gen Z-er). Aritzia's shrunken hoodie ($70) is my personal favorite. Pangaia makes stylish and ethical sweats. 
5
A Transitional Sweater
Sweater
The actual style of this sweater is dependent on you, but owning one that is equally cozy enough for both brunch and lounging at home is important. I own two of these H&M sweaters and constantly get compliments on them. 
Honorable mentions: With its high-quality cashmere and semi-psychedelic takes, The Elder Statesman's knits are a fashion insider favorite, but come with hefty price tags. Alternatively, Victor Glemaud makes knitwear that both you and your mom will like (a true feat). 
6
A Little Black Dress
Draped Side Mini
Ah, the LBD. It's pretty much the ultimate wardrobe staple. The only thing that's up in the air? The definition of the word "little." The just-right length is in the eye of the beholder. 
Honorable mentions: Are You Am I is an influencer favorite (but has limited sizing). ASOS is a great one-stop shop for LBDs in range of sizes and styles, but opt for one that isn't of the single-use variety. 
7
An Easy Slip Dress
Sundance Slip Dress
A slip dress is the kind of item that you think is a lot, but you end up wearing 24/7. Choose a color or print that speaks to your daily wardrobe. 
Honorable mentions: I've lost track of how many of Silk Laundry '90s dresses ($265) I own. 
8
A Wear-Everywhere Dress
The Teale
This is not your special occasion dress. Rather, this is the frock you throw on too often, without care, because it's what you feel your best in. It's old reliable for days when you don't know what to wear. 
Honorable mentions: Hanifa for the bold, COS for the minimalist. 
9
A Tailored Trouser
High-Waisted Wide-Leg Trouser
Even if you don't work in an office, black slacks are considered casual. I wear this exact pair with everything from going-out tops to oxford shirts and band tees. 
Honorable mentions: Fashion editors love to scour secondhand sites for Old Celine trousers. For designer trousers, The Row is a tried-and-true. J.Crew's options are also great if you prefer a slimmer cut.  
10
Flattering Jeans
Good Legs High Waist Crop Skinny Jeans
This might feel like an endless search, but when you find your perfect pair of jeans, you just know. This can vary from straight legs to skinny, but owning denim that complements your assets is an instant mood-booster. Good American makes great mid-range denim. 
Honorable mentions: AGOLDE is a gold standard for those looking for that perfect, straight leg style that isn't a mom jean (Levi's Wedgie fit also deserves a call out). For skinny styles, try Frame's popular Le High ($190) style or surprise, surprise, another Levi's style that boasts over 60,000 reviews on Amazon.
11
Leggings
7/8 High-Waist Airbrush Legging
Here's another pandemic-influenced pick: chic leggings. We live in these now, so owning a good pair might just make you want to work out. The best part about Alo Yoga's leggings is not only the quality, but the color range and matching sets. 
Honorable mentions: Beyond Yoga's spacedye leggings for a pair that feels like a second skin. TikTok's viral leggings do work, just FYI. For more options, check out our roundup here. 
12
An Oxford Shirt
Oxford Perfect Shirt
Think of an oxford shirt like a lightweight cardigan. You can wear it to the beach, to work, and over a slip dress.
Honorable mentions: Alex Mill ($125) makes a solid silhouette. For a heftier weight, try L.L. Bean's affordable styles (I prefer the men's styles, which are cut a little wider). 
13
A White Tee
U Crew Neck Shirt
A basic white T-shirt is a no-brainer. The U styles from Uniqlo have a heavier weight, meaning you can go braless in them (although you can technically go braless in anything you want). 
Honorable mentions: Universal Standard Tex Rex Shirt ($50), 100 percent. For a splurge, try Wardrobe NYC cotton-jersey style ($100). 
14
A Black Crossbody
Small Classic Handbag
Do I really need to convince you to own a black bag? Probably not. A Chanel classic flap is the ultimate investment (they hold value extremely well on the resale market), but you don't need to throw down this much money to get the same effect in your life. We highly recommend considering the below styles, too.
Honorable mentions: Madewell's crossbodies are sturdy, affordable, classic, and will reel in compliments as easily as a Chanel will (true story). Some more brands affordable we love for a simple crossbody: Brandon Blackwell, JW Pei, and don't forget about buying a used designer handbag. 
15
A Tote Bag
Large Oxblood Shopping Bag
Carrying around NYC merch or an A24 tote bag is a flex, but do yourself a favor and invest in a non-canvas style that doesn't break down or get super dirty. Hands down, Telfar is the number one pick. 
Honorable mentions: Cuyana's heavy-duty leather totes will last through an apocalypse. Yvonne Koné's chic styles are made in Denmark, but with the Ivory Coast in mind. 
16
"Comfortable" Formal Shoes
Nudistsong High-Heel Sandals
These are the heels you bust out for every special event, because you know you can stand in them all night long. Just listen to your feet and stick to a style that you're comfortable in, be it a stiletto or a block heel. Stuart Weitzman's Nudistong heels are a celeb-favorite for a reason. 
Honorable mentions: Salone Monet has a cult following for its inclusive color range, so you can find your true nude shade. 
17
Simple Ankle Boots
Empire Platform Boot
Whether you're team brown leather or team black leather, a simple ankle boot is a year-round essential (yes, we sometimes wear ankle boots in the summer too). 
Honorable mentions: By Far boots veer toward less classic, and are a fave brand amongst the Bella Hadid types. Khaite makes industry-loved boots that come with a high-fashion price tag. For a high street budget that doesn't skimp on quality, look to COS, Free People, and trusty Dr. Martens. 
18
Basic Flats
Square Toe Ballerina
A flat shoe that isn't a sneaker or a sandal comes in handy when you're running into the office unexpectedly. If you're opposed to the ballet flat, we are a little obsessed with loafers. 
Honorable mentions: H&M can be a great option for those looking to spend less, but these styles aren't likely to last a lifetime. 
19
White Sneakers
Espalar Sneaker
A pair of white sneakers hits different. Whether you like them a little scuffed or freshly buffed, they go with just about anything in your closet. Vejas in particular are sustainably made and endlessly loved by Meghan Markle. 
Honorable mentions: Nike, of course, no matter the style. 
20
Athletic Sneakers
Streamline
Investing in your workout shoes is important. You want a pair that won't damage your body mid-burpee. Take it even further and try a well-made sneaker that looks as good as it feels, which makes you want to go to the gym. 
Honorable mentions: Adidas's popular Ultraboost makes you feel like you're walking on marshmallows. 
21
Shoes for Errands
Arizona Split Birkenstock Sandals
You can choose to go minimal or weird with this wardrobe suggestion. These shoes are the ones you run around town in without a care in the world. 
Honorable mentions: What can we say, Crocs are having a  moment that doesn't seem to be ending anytime soon. 
22
Special Occasion Jewelry
14kt Gold Pearl Curve Form Earrings
Jewelry on a night out transforms not only your outfit, but your mood. Maybe it's a necklace that you inherited from your grandma or a pair of earrings you invested in, but consider this something that puts a smile on your face every single time you wear it.  
Honorable mentions: Irene Neuwirth's beautifully carved stones are future heirlooms. The Last Line makes playful fine jewelry accessible. BaubleBar's line of demi-fine styles is also a great alternative.
23
Hoop Earrings
Mini Samira Hoops
What's not to love about basic hoop earrings? Celebs like Selena Gomez and Rihanna love Jennifer Fisher's bold styles, but you can opt for thin hoops if you seldom take them off. 
Honorable mentions: Mejuri, hands down, makes some of the best jewelry around, and it just happens to be super affordable. Win-win.
24
Everyday Jewels
Love Bracelet
You have jewelry you swap in once a year, and then you have jewelry that you forget to take off. Cartier's Love bracelet is a steep investment, but it's literally screwed onto your wrist, rendering its price-per-wear more than worth it. 
Honorable mentions: Mejuri, again, deserves a shout-out. We also love basics from Oma the Label, ByChari, and Tiffany & Co. (if you can swing the latter). 
25
Face-Framing Sunglasses
Cat Eye S193 Sunglasses
I will reach for a pair of basic sunglasses over on-trend styles 95 percent of the time. Find a classic frame you love, and you won't regret it. 
Honorable mentions: Celine sunglasses are known for being the investment pair amongst fashion editors, but you really can't go wrong with Ray-Ban. Meanwhile, Le Specs and Aperçu are both Insta-friendly brands that keep getting better and better.
26
A Leather Belt
Faux Leather Belts with Double O-Ring Buckle
A belt truly pulls an outfit together. Those are the rules!
Honorable mentions: Frame belts are a hidden gem. They're pricey, but we doubt you'll ever need to buy one again.
27
The Perfect Bra
24/7™ Classic T-Shirt Bra
Finding a bra that makes you feel your absolute best will change the way you dress. Fit is everything, and ThirdLove has it down to a science. 
Honorable mentions: We have a meticulous list of our favorite bras here. 
28
Buy-in-Bulk Underwear
Fits Everybody Thong
We all know that feeling of searching through your lingerie drawer desperately for that single, well-fitting, simple pair of underwear that feels like nothing. Do yourself a favor and buy it in bulk. 
Honorable mentions: Cosabella has a storied reputation for making some of the best (and most comfortable) lace underthings. Parade's cult is newer, but spreading like wildfire. And while Rihanna's Savage X brand is known more for racy lingerie, its basics are equally great. 
29
Socks
Lightweight No-Show Socks
Suggesting that you should own socks seems redundant, but owning good socks is life-changing. 
Honorable mentions: At this point, Bombas should sponsor me because I mention its socks to strangers. But there are great alternatives to be found everywhere. For other fun styles, look to Cross Colors, and Hypebaes will instantly notice you in Kapital calf-lengths. 
30
A Flattering Swimsuit
Evolve One-Shoulder One-Piece Swimsuit
Having a timeless bathing suit alongside your arsenal of wilder styles is essential for making you feel comfortable at the beach or pool. We deeply appreciate Jade Swim, because all of its styles strike the perfect balance between modern and classic.
Honorable mentions: Solid & Striped and Everlane for classic maillot silhouettes. 
This content is created and maintained by a third party, and imported onto this page to help users provide their email addresses. You may be able to find more information about this and similar content at piano.io
Advertisement – Continue Reading Below