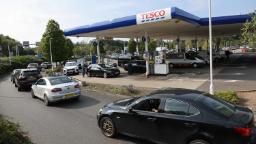 British drivers are being urged not to panic buy gasoline after a shortage of truck drivers forced BP to temporarily close some of its UK service stations.
The Automobile Association (AA) appealed for calm on Friday as drivers in some parts of the United Kingdom flocked to gas stations.
"There is no shortage of fuel and thousands of [stations] are operating normally with just a few suffering temporary supply chain problems," AA President Edmund King told CNN Business. He warned drivers against filling up "outside their normal routines" as "even if the occasional petrol station is temporarily closed, others just down the road will be open."
Yet some Brits paid little heed as the weekend approached, with Shell warning of long lines at stations.
"We are seeing an increased demand today for fuel at some of our stations, which may in some instances result in larger queues. We are adapting our delivery schedules to ensure sufficient supplies for our customers," Shell said in a statement.
Worker shortages are a growing problem in Britain, which had a record 1 million job vacancies between June and August, according to the Office for National Statistics. The shortage of truck drivers has been exacerbated by the pandemic and Brexit, which resulted in tens of thousands of EU nationals leaving their trucking jobs in the United Kingdom.
BP said in a statement on Thursday that it was "experiencing some fuel supply issues at some of our retail sites in the UK and unfortunately have therefore seen a handful of sites temporarily close due to a lack of both unleaded and diesel grades."
The company blamed "industry-wide driver shortages across the [United Kingdom]" for the supply chain crunch. "We are prioritizing deliveries to motorway service areas, major trunk roads and sites with largest demand and seeking to minimize the duration of stock outs," it added.
BP declined to comment on how many gas stations would be affected, but a person familiar with the situation said that "tens" of sites were experiencing fuel shortages.
This is the second time in as many months that BP has had to temporarily shutter some UK locations because of problems distributing fuel due to a lack of truck drivers. According to the Road Haulage Association, the United Kingdom is short around 100,000 truck drivers, 20,000 of whom were EU nationals that left the country after Brexit.