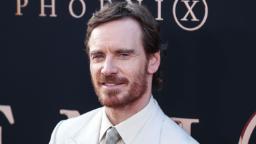 St. Brendan's College, Killarney posted pictures on social media of students enjoying the workshop with the Oscar-nominated actor.
"Transition year students today received a drama workshop from past pupil and Oscar nominee Michael Fassbender," the school tweeted, adding: "Students greatly enjoyed the workshop."
Born in Heidelberg, Germany to a German father and an Irish mother, the "X-Men" star was raised in the town of Killarney, County Kerry, in southwest Ireland, where his family moved when he was 2 years old.
The actor was awarded the the town's highest accolade, The Order of Innisfallen, in 2016.
Earlier this year, Fassbender welcomed a child with his wife, "Tomb Raider" star Alicia Vikander, People magazine reported.