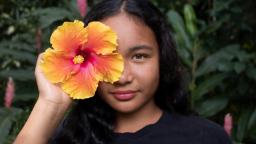 The world's youth are fast becoming the protagonists in the story of climate action. For Call to Earth Day, international non-profit Restless Development hosted a global workshop on eco-storytelling, giving a platform to five young activists from communities severely affected by climate change.
One of these was Inés Yábar, 25, an environmentalist based in Lima, Peru. Yábar says that in her country, the effects of climate change are evident: "Floods on the coastline, glaciers melting in the mountains and rainforest fires in the Amazon," she said. "Everyone in Peru is at risk."
"It's every human's role to protect the world that we live in and there is no time to lose, which is why us young people have stepped up," Yábar added.
The workshop showed hundreds of young people around the world how to use their stories to advocate for climate action.
"Sharing honest stories of climate change … is essential to re-connect us with each other and with nature," said Yábar. "As young people, sharing our own eco-stories is really powerful because we can ground climate change in the realities that make people care about this crisis. I believe everyone has a story to share."