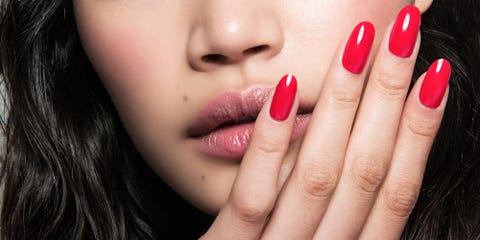 Imaxtree
The dreaded broken nail. It can ruin a day and alter a well-planned outfit. The good news is that with a few hacks, a bit of patience, and some expert tips, it doesn't have to completely upend your manicure. Chances are, you have all the essentials needed to repair a broken nail within reach. If not, no biggie, not all is lost.
First thing first: It's important to take proper care to prevent infection and treat the wound. It may sound overly dramatic, but a broken nail should be looked after similar to a cut on the skin. We reached out to Dr. Dana Stern, a dermatologist specializing in nail care, to discuss what exactly you should be doing to repair your broken nails. Ahead, Dr. Stern, MD, shares her best tips and tricks for combatting broken nails. Plus, we included some of the best YouTube tutorials for the different methods of broken nail care.
Advertisement – Continue Reading Below
8
Preventative Tips and Products
Broken nails could signal that it's time to cut them. "Keep nails shorter," Dr. Stern advises. "Shorter nails are less likely to split and snag." Also, invest in some smart nail care tools like a glass or crystal file. "Glass files don't cause the microscopic tears in the nail that typical emery boards do," Dr. Stern adds.
OPI Crystal Nail File, $12, ulta.com
SHOP
Bona Fide Beauty Glass Nail File, $9.99, amazon.com
SHOP
This content is created and maintained by a third party, and imported onto this page to help users provide their email addresses. You may be able to find more information about this and similar content at piano.io
Advertisement – Continue Reading Below