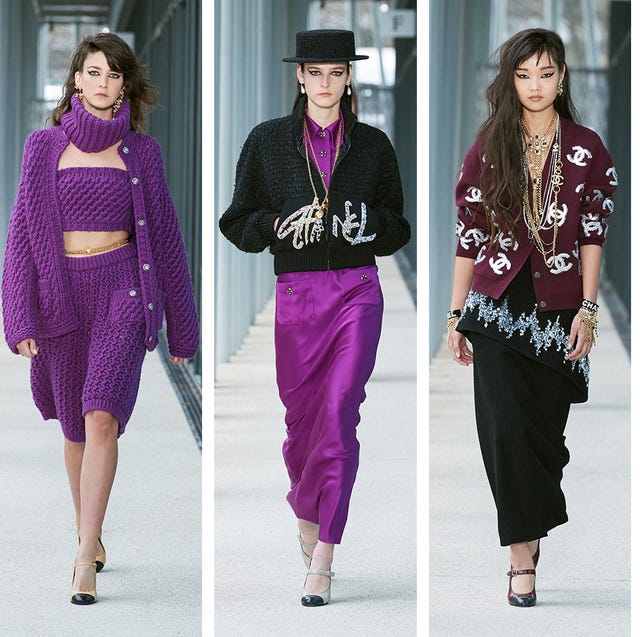 Courtesy
Chanel's annual Métiers d'Art shows are always a celebration. While previ0us collections debuted across the world from Dallas, Texas to Mumbai, this season, Chanel stayed close to home in Paris. For its 2022 collection, the French house presented at the newly opened Le19M building, dreamed up by Chanel and designed by architect Rudy Ricciotti. Located in the 19th arrondissement—a number emblematic to the brand's history with perfumes and bags alike named after it—Chanel plucked from its own storied history for show inspiration.
Although each Métiers d'Art collection serves as a dialogue between Chanel and its vast network of artistic collaborators, creative director Virginie Viard described this season as "very metropolitan yet sophisticated." Embroiderers Lesage and Atelier Montex, the goldsmith Goossens, the hatter Maison Michel, the feather worker Lemarié, the pleater Lognon, and the shoemaker Massaro, plus hundreds more, were all part of this group project. The end result is yet another beautiful runway that highlights the craftsmanship Chanel is known for: embroidered tweed separates, cardigans emblazoned with the double C logo that you'll surely see on the influencer set, and even pedal pushers (throwback indeed). In terms of accessories, Chanel's strong point, costume jewelry was playfully layered in excess while bags leaned into eveningwear with opulent beading and rich jewel tones.
Further cementing the brand's relationship to art and artists, Chanel presented a short film and employed eight authors to chronicle their experiences at Le19M, both of which can be viewed now at chanel.com. Keep scrolling to see the full collection.
Advertisement – Continue Reading Below
This content is created and maintained by a third party, and imported onto this page to help users provide their email addresses. You may be able to find more information about this and similar content at piano.io
Advertisement – Continue Reading Below