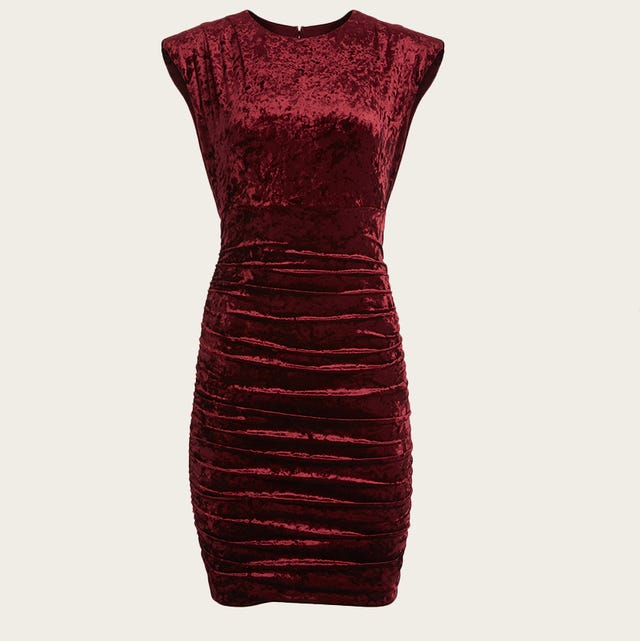 Let's be real: The same dress that's perfect for a boozy, all-night party with your friends is not the dress that's going to be perfect for an afternoon lunch with your extended family. Different invites regularly carry opposing dress codes, a fine-with-us factor since it allows for more wardrobe planning.
While you might end up dressing on opposing ends of the spectrum for some obligations (like a micro hemline for a night with girlfriends versus a more demure silhouette for a meal where your grandparents are holding court) some things will always remain the same. Pick something that feels like you—and makes you feel good. Here, 5 of our favorites from the GUESS holiday collection.
Advertisement – Continue Reading Below
1
Dress for a Partner's Work Party
Guess Mikaela Tweed Dress, $128
SHOP NOW
Combine design elements from an iconic tweed jacket with an above-the-knee hemline and you get something that's both smart and sexy. That classic textured fabric is forever in style, and the timeless look works at any time of day.
2
Dress for a Daytime Party
Guess Eco New Akilina Dress, $108
SHOP NOW
The very best thing about a classic slip dress is its versatility. Style it with casual shoes (we love flats or ankle boots) and top it with literally anything. Pull on a cardigan, a blazer, a killer leather jacket to stay warm and make it work for the vibe of the event you're attending.
3
Dress for a Family Party
Guess Eco Erynn Pleated Long-Sleeve Dress, $128
SHOP NOW
It's best to play it more conservative around family where older, and younger, members will be present—but demure doesn't need to mean dowdy. This long-sleeve belted pick is insanely flattering and gives off modern-day royalty vibes. Bonus: It's made with recycled components.
4
Dress for Your Work Party
Guess Carmela Velvet Dress, $128
SHOP NOW
If a party with corporate colleagues is a time to appear professional whilst displaying your personal style, then ding-ding-ding: We have a winner. This sleek pick has the appropriate amount of coverage, while the rich fabric and whimsical floral print show your unique side.
5
Dress for a Late-Night Party
Guess Charlie Velvet Dress, $108
SHOP NOW
A simple mini is anything but in gotta-touch-it crushed velvet. This option is perfect for a get-together with your most style-obsessed friends, too: The padded shoulders create a sculptural silhouette they'll definitely appreciate.
This content is created and maintained by a third party, and imported onto this page to help users provide their email addresses. You may be able to find more information about this and similar content at piano.io
Advertisement – Continue Reading Below