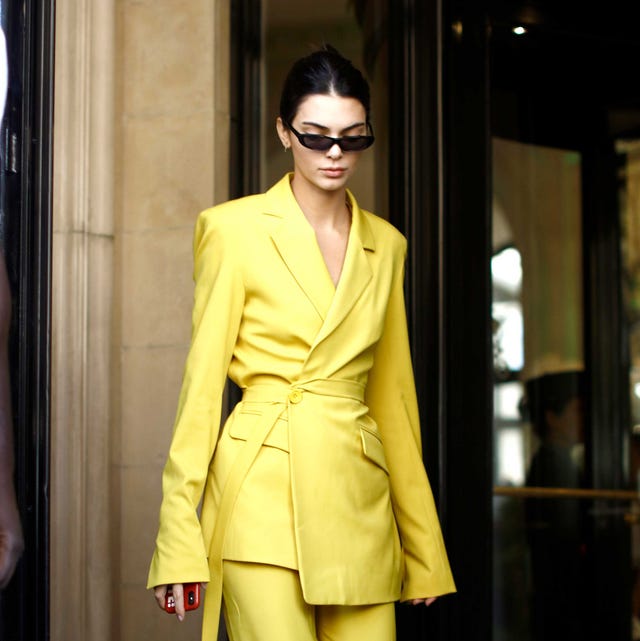 Getty Images
Whether for an appearance or simply to explore the City of Love, celebrities enjoy Paris as much as the rest of us. It's one of the grandest cities in the world from its designer shopping, unrivaled fashion week, five-star hotels and local coffee shops on the corner of a cobblestone street that look straight out of a movie.
While the Eiffel Tower is without a doubt the most iconic stop on any Paris itinerary, many tourists can add a spontaneous celebrity sighting to their list. With flights cheaper than ever from international airlines such as French Bee, it might be time for your own Emily in Paris moment. From Kim Kardashian to Hailey Bieber, take in the best photos of celebs in Paris.
1 of 30
Jennifer Lawrence
Jennifer Lawrence, the face of Dior, was seen head to toe in the brand (and staying dry) this past Summer during Paris Fashion Week.
2 of 30
Rihanna
Seen promoting her cosmetic brand Fenty Beauty, Rihanna poses at the exclusive event in 2019.
3 of 30
Beyoncé
Beyoncé was seen back in 2012 on a Parisian summer night leaving Costes restaurant.
4 of 30
Millie Bobby Brown
In all white, Stranger Things star Millie Bobby Brown was seen at Le Grand Rex in 2019 for the premiere of her movie Godzilla II.
5 of 30
Lorde
Long before her latest album Solar Power came into existence, Lorde dressed in black and white was seen outside the Chloé fashion show in 2015.
6 of 30
Kourtney Kardashian
In early 2020, Kourtney Kardashian, in latex, was seen leaving Kanye West's Sunday Service at the Theatre des Bouffes du Nord.
7 of 30
Jennifer Lopez
Jennifer Lopez, seen posing in front of the Louvre Pyramid in 2017.
8 of 30
Katy Perry
Mask up and understated, Katy Perry was seen out shopping during a recent visit this past summer.
9 of 30
Kim Kardashian
A week before lockdown in 2020, Kim Kardashian was seen with her daughter North West exiting a Paris staple: Café de Flore restaurant.
10 of 30
Lady Gaga
During the international press tour for A Star Is Born, Lady Gaga was seen leaving her hotel in 2018.
11 of 30
Lucy Hale
Fashion Week in Paris has become a rite of passage for big names. Seen at the Miu Miu Show last month, Lucy Hale looked chic in black and white.
12 of 30
Noah Schnapp
With a bold color-blocking statement jacket, Noah Schnapp looked all grown up at the Lacoste Show last month.
13 of 30
Kate Moss
Kate Moss and boyfriend Nikolai Von Bismarck were spotted dining out at the elegant Lapérouse Restaurant last month.
14 of 30
Kendall Jenner
Luxury hotels are a safe bet for celebrity sightings in the city. Here's Kendall Jenner exiting the Four Seasons Hotel in 2018.
15 of 30
Cardi B
An outfit guaranteed to catch your eye, Cardi B and boyfriend Offset were swarmed by paparazzi leaving the Balenciaga show a few weeks ago.
16 of 30
Victoria Beckham
Victoria Beckham was seen at the Gare du Nord train station in 2019, wearing high heels naturally.
17 of 30
Justin Bieber
In his beloved streetwear, Justin Bieber was seen shopping at Louis Vuitton's flagship location earlier this year.
18 of 30
Justin and Hailey Bieber
Justin and Hailey Bieber wore these outfits leaving Dinand par Ferdi restaurant this summer. They went on to meet the French president in the looks. (Yes, the Biebs wore sneakers to meet a head of state.)
19 of 30
Selena Gomez
Smiling and rocking bangs, Selena Gomez was seen at NRJ radio station for an interview in 2019.
20 of 30
Brooklyn Beckham
The hotel for many celebrities and home to the iconic Hemingway Bar, the Ritz Hotel counted Brooklyn Beckham and his fiancée Nicola Peltz among their guests last month.
21 of 30
Elliot Page
Perhaps Elliot Page had a run-in with Cardi B as he was also in attendance at the Balenciaga show during Paris Fashion Week earlier last month.
22 of 30
Paris Hilton
In a sporty look (although not her iconic Pink tracksuit), Paris Hilton was seen leaving Fouquet's Hôtel Barrière in 2018.
23 of 30
Celine Dion
Giving a soft smile, singer Celine Dion was seen posing for the cameras earlier this year at the Giorgio Armani Prive show.
24 of 30
Elle Fanning
Met with cameras outside, Elle Fanning was seen leaving her hotel during Paris Fashion Week in 2019.
25 of 30
Naomi Campbell
Namoi Campbell was seen serving serious looks outside the Sacai show in 2019.
26 of 30
J Balvin
From the rainbow hair to the over-the-shoulder bag and sunglasses, J Balvin defined cool at the Dior show in 2019.
27 of 30
Gigi Hadid
Gigi Hadid's outfit, seen in 2018, was peak fall attire.
28 of 30
Angelina Jolie
Surrounded by fans, Angelina Jolie was spotted leaving the Guerlain store in 2018.
29 of 30
Bella Hadid
The street is Bella Hadid's runway as she was seen leaving the Alexandre Vauthier fashion show this past January.
30 of 30
Bradley Cooper
Bradley Cooper was spotted with bags in hand, navigating the Charles-de-Gaulle airport back in 2016.
Advertisement – Continue Reading Below
This content is created and maintained by a third party, and imported onto this page to help users provide their email addresses. You may be able to find more information about this and similar content at piano.io