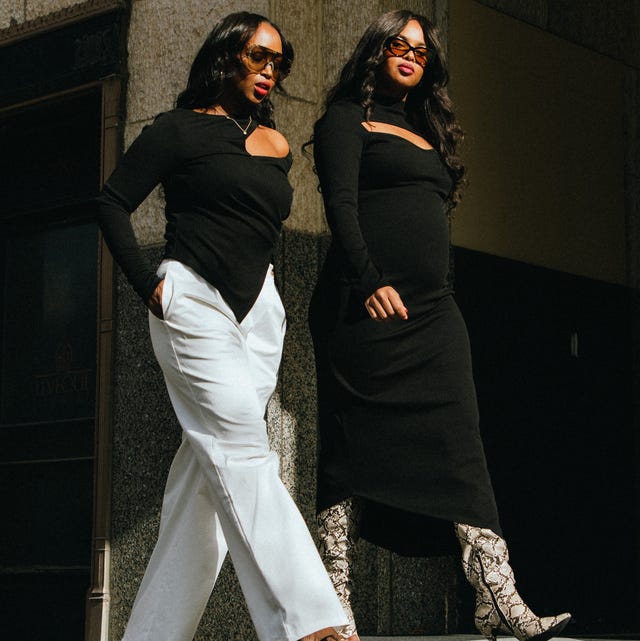 Amazon
The Drop is Amazon's answer to the lure of both influencer culture and time-centric releases, and it's not something to be ignored. The newest collection features the debut range from power-sisters @theyusufs (or Nasteha and Nuni Yusuf, two Somali-Canadian women who have brought followers along for their "journey into entrepreneurship one outfit at a time"). Tagline in mind, it's not hard to imagine the tightly edited capsule as being an unofficial starter pack for the sartorially minded who want to take meetings, write checks, and generally embark on a path toward moguldom.
With sharply cut blouses and what might be the most perfect pair of white trousers we've encountered recently, everything is ready to work (yet easy to envision dressed down for a never-not-working vibe). As with all of The Drop collabs, things are available for a scant 30 hours and can sell out sooner. If you see something you like, pick it up.
1
Chocolate Belted Shacket by @theyusufs
Shirt jackets continue to have a place in our closets, and this deep caramel version is worth pushing aside hangers for extra space. From the quartet of utilitarian pockets to the waist belt, it's just about perfect.
2
Black Cutout Top by @theyusufs
It's forever interesting to watch how fashion-minded people take a staple and rework it into something that stands on its own. This take on the long-sleeve top is far from ordinary thanks to a slash at the neckline and sharp waist lapels.
3
Wave Print High-Neck Bell Sleeve Top by @theyusufs
A marbelized print in warm paprika instantly turns a simple blouse into something completely statement-making. Add in the fluted sleeves and roll neck, and it's liable to become your new go-to whenever an outfit needs a visual oomph.
4
Ivory Wide Leg Pant by @theyusufs
The perfectly cut wide-leg trouser is a staple of the power-wardrobe. They're as versatile as jeans and easily worn on rotation (especially so if you grab both colors the Yusuf sisters selected. Along with this eggshell they designed a camel version.)
5
Black Cutout Dress by @theyusufs
A sleek, solid-colored dress has always been a building block of the boss-lady wardrobe. On nights when you have post-work plans on the calendar, this is our pick: soft jersey flatters curves and the open neckline is sexy but office-appropriate.
6
Maya Silky Slip Skirt
The sleek slip skirt is a versatile wardrobe hero, working just as well on steamy summer nights as it does with long-sleeves and boots. The Drop's basic version is available in a whole slew of colors.
This content is created and maintained by a third party, and imported onto this page to help users provide their email addresses. You may be able to find more information about this and similar content at piano.io